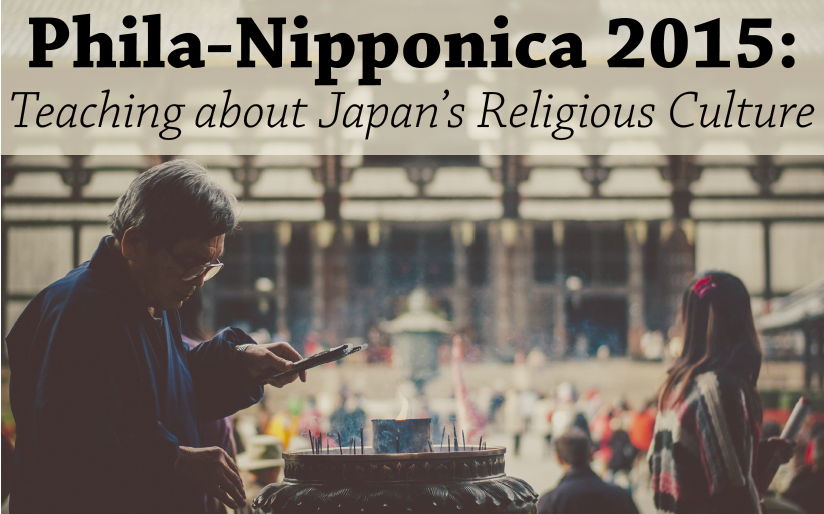 The University of Pennsylvania Center for East Asian Studies is pleased to announce that it will offer the Phila-Nipponica Project, the 14th year in a series devoted to preparing educators in schools in the Philadelphia region to convey knowledge and understanding of Japan to their students and colleagues. Nearly two hundred Philadelphia-area educators have enhanced their classroom teaching about Japan through seminars, a summer study-tour, and curriculum development workshops.
In 2015, the Center for East Asian Studies will offer a "graduate" program with a focus on: Teaching about Japan's Religious Culture. Teachers who have previously participated in Phila-Nipponica (or have equivalent experience through the study or travel of Japan), are invited to apply.
Information Session
We invite you to attend an introductory information session from 4:30 to 6 PM on Thursday, December 4 at the University of Pennsylvania, in Williams Hall Room 844. 
Please visit our EventBrite link (https://teachingreligionsofjapan.eventbrite.com) to let us know if you are planning to attend.  You are welcome to bring along any teacher you know who might be qualified for the program.
For 2015, the Project entails:
Three full Saturday seminars on February 21, March, 21, and April 25, 2015
A group study tour in Japan from Friday, June 26-Tuesday, July 14, 2015 (exact dates of departure and return are tentative).
The total cost of the program is $1500. The remaining costs are funded by the US-Japan Foundation and the Center for East Asian Studies.
For any questions, please contact us at ceas@sas.upenn.edu or 215.573.4203.
__________
General Information about the Project
For the last decade the University of Pennsylvania has partnered successfully with the US–Japan Foundation in the Phila-Nipponica Project, preparing educators in our area's schools to convey knowledge and understanding of Japan to their students and colleagues. We have prepared a total of 120 teachers in the introductory Phila-Nipponica projects: 20 teachers in each of six years intensively studied Japan during seminars conducted by Penn faculty and in faculty-led study-tours of Japan .
The results from these efforts over the course of the decade are both widespread and deep in impact. By a conservative calculation, the total number of students who have been taught about Japan in the Greater Philadelphia area as a result of the Phila-Nipponica Project is about 30,000. The depth of the outcome is measured in the classes, after-school clubs, and special inter-school projects that are now devoted to the study of Japan, and the on-going relationships that have been established between American and Japanese schools and students.