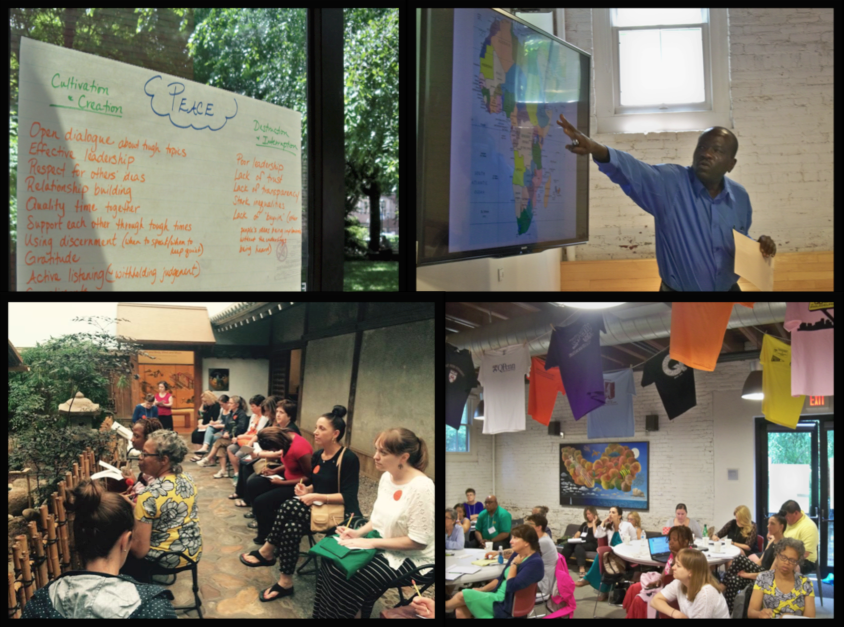 This year's global education Summer Institute, an annual week-long professional development program for teachers hosted by Penn's National Resource Centers since 2005 (South Asia Center, Center for East Asian Studies, Middle East Center,Africa Center) focused on Philadelphia's bid to become the first World Heritage City in the United States. The event, titled "Translational Experiences: Engaging with World Heritage" was co-sponsored by Global Philadelphia Association, a citywide organization promoting international consciousness within the region and enhancing the region's global profile. The Global Philadelphia Association is leading the effort to make Philadelphia a World Heritage City in partnership with the City of Philadelphia's Commerce Department.
The Summer Institute helped teachers connect Greater Philadelphia, its history and social climate to global histories and contexts.  Thirty educators from the region were selected from over 70 applicants. These educators exhibited leadership in their schools and education networks and showed a commitment to global education. Of the selected participants, 60% teach in Philadelphia School District public or charter schools, 25% teach in independent schools and 15% teach in parochial schools.
The program was held at Penn's LGBT Center from July 13-17 and featured faculty presentations from:
David Brownlee, Professor of History of Art, "History of World Heritage Conservation & the 'Case' for Philadelphia"
Brian Daniels, Director of Research, Penn Cultural Heritage Center, "The Impact of UNESCO World Heritage Status & Indigenous Peoples' Heritage Rights"
Ali Ali-Dinar, Associate Director, Africa Center, "Lessons from the Past: Africa's World Heritage"
Pushkar Sohoni, South Asian Studies Librarian, "History of Architectural Practices in India"
Fariha Khan, Associate Director, Asian American Studies Program, "International Philly: Being Involved with Cultural Heritage"
Salam Al Kuntar, Visiting Scholar, "Human Mobility, Cultural Boundaries, Heritage & Identity in the Middle East"
Rashmi Kumar, Learning Instructor, Weingarten Learning Resources Center, "Tech Tools for the Global Educator"
The Institute introduced educators to the Philadelphia Folklore Project through a workshop with Linda Deafenbaugh, the organization's Education Specialist and Al-Bustan Seeds of Culturethrough a panel discussion with Founder and Executive Director, Hazami Sayed. Both organizations bring global heritage arts and culture into schools.   
The educators also visited the Philadelphia Museum of Art and the Penn Museum where they heard from museum educators and did reflective activities in the galleries. Hitomi Yoshida, Diversity Programs Manager, highlighted the Penn Museum's International Classroom Program. As part of the program, Stephanie Mach, a grad student in Penn's Anthropology Department, gave a presentation on Navajo and Lenape material culture and heritage.  
Fernando Trevino from the Mayor's Office of Immigrant & Multicultural Affairs presented about Philly's new and old immigrants. Greater Philadelphia has the largest and fastest growing immigrant population of any major U.S. metro area, which is now 12% of the total population (Brookings Institution). Trevino highlighted the need to support newcomers in their integration process and the important role of teachers and schools.
Diverse and delicious lunches curated by Amelia Carter, Program Coordinator of Penn's Middle East Center, featured Chinese, Indian, Turkish, Mexican and Senegalese cuisine.
Penn's 2015-2016 Master Teacher Fellows in Global Education, Danielle Heeney and Sarah Sharp, shared their triumphs and challenges bringing "global ed" into the classroom. They facilitated discussions about incorporating state standards, working with limited resources, and accommodating all learners.  Kathleen Hall, Associate Professor of Education and Anthropology, came by the Institute to support the teachers and learn how best to introduce these techniques to pre-service educators in the Graduate School of Education. Globalizing teacher education through the Master Teacher Fellowship and partnering with the Graduate School of Education are key initiatives supported by the South Asia Center and Middle East Center.
The educators did a daily web discussion on the teachers networking site, Edmodo, and gave group presentations full of resources for teaching about the Middle East, Africa, Europe, East Asia & Oceania, and South and Southeast Asia. The culminating piece of the Summer Institute is a World Heritage Tool Kit, a public resource for all educators. The tool kit will include lesson plans and activities to help educators and their students develop transnational analysis in their classrooms by using world heritage as a framework to understand global regions across disciplines. The World Heritage Tool Kit will be released this fall during GlobalPhilly15, an exposition of all things international organized by Global Philadelphia Association.
Anastasia Shown, lead organizer of the Summer Institute, said that this year was one of the best yet. "The educators really absorbed the material and felt honored to be part of such an important moment in Philadelphia's history. They also learned that the city has so much to offer in terms of global education." Shown looks forward to working with the educators and their classrooms throughout the year as part of her outreach work at the South Asia and Middle East Centers.
One of this year's participants said, "this workshop has deepened my own personal knowledge base on world heritage and the various world regions/cultures that were discussed.  As a result, I feel more confident in my teaching.  I also learned different approaches/resources that I can use to bring global awareness into the classroom and connect with the city of Philadelphia." 
Another participant shared, "I gained so much from this workshop and it is hard to quantify the knowledge. I gained new awareness of world heritage sites and process, history, pros and cons, and criterion. I benefited immensely from the range of speakers and topics. The coordinators of the seminar provided an immense array of viewpoints and concrete information, and tied all into Philadelphia as a possible world heritage city as well as UNESCO/World Heritage Sites in general. There is so much to contemplate." 
Another concluded, "I learned how to incorporate global heritage in other subjects, not just social studies. I now have a better understanding of global heritage and many different regions from around the world that make me a more confident and knowledgeable teacher."
For more information visit the Summer Institute website: https://sites.sas.upenn.edu/globalsummerinstitute/
Nutter continues push to make Philadelphia World Heritage City (Newsworks)
http://www.newsworks.org/index.php/local/philadelphia/83997-nutter-continues-push-to-make-philadelphia-world-heritage-city