Wednesday, February 17, 2021 - 7:00pm
ONLINE via Zoom. REGISTER HERE

Please NOTE: Access to the film itself will not be provided, but it can be streamed on available platforms.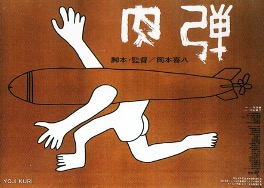 The Human Bullet, 1968,
written and directed by Okamoto Kihachi

This satirical look at the absurd side of World War II deals with the topic of human torpedoes and suicide missions.  The unnamed protagonist is assigned to destroy an American battleship at the cost of his own life.
------------------
The annual February Japanese Film Series is presented by the University of Pennsylvania Center for East Asian Studies (UPenn CEAS) and the Japan America Society of Greater Philadelphia, this year as watch parties. This means that you will need to be watch the film using your own access to a streaming service (or by watching a physical DVD or similar).

As we approach the eightieth anniversary of the American entry into World War II, our 13th Annual February Japanese Film Series will screen four Japanese films about the devastating consequences of that war.  With themes that range from pathos to brave sacrifice, the four films of the 10th Annual February Film Series span half a century of reactions to its tragedy.

Due to the continuing pandemic, these films will be presented as watch parties beginning at seven PM with an introduction and concluding with a brief discussion session. The discussions will be led by Dr Frank Chance, Adjunct Associate Professor, Department of East Asian Languages and Civilizations at University of Pennsylvania.
Co-sponsored with the Japan America Society of Greater Philadelphia.