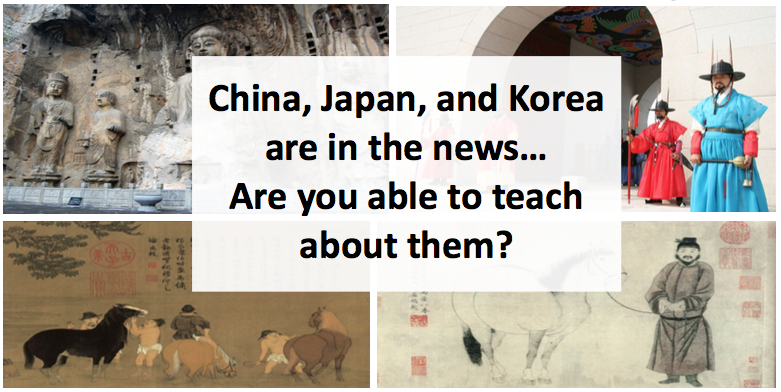 Free Seven-session Seminar!
Designed to deepen your knowledge of China, Japan, Korea, and Mongolia, this course will encourage teaching and learning about East Asia's political, social, and cultural history. Each session is built around a content speaker and group discussion, making the seminar perfect for K-12 teachers of World History, World Cultures, Geography, Economics, Language and Language Arts, Literature, Visual and Performing Arts.
Topics for 2019:
• Early Chinese Religions, Buddhism and Buddhist art in context
• Early Chinese History: Han, Tang, and Song Dynasties
• Early Japan: History and Art
• Musical Instruments of East Asia
• Korean History
• Early Modern East Asia: History and the Arts
• Emergence of Modern Japan
• Modern China: History, Society, and Art
2019 Seminar dates:
January 26 (Sat.)
February 9 (Sat.)
February 23 (Sat.)
February 28 (Thurs.)
March 16 (Sat.)
April 4 (Thurs.)
April 6 (Sat.)
Saturday sessions 9am-3pm
Thursday afternoon sessions 4:30-7:30pm
(total of 30 hours)
Location: Williams Hall (255 S. 36th St., Philadelphia) classroom TBD
This national program is sponsored by the Freeman Foundation, in association with the Asian Studies Center, University Center for International Studies of the Univer- sity of Pittsburgh, and the National Consortium for the Teaching about Asia (NCTA), hosted at the University of Pennsylvania Center for East Asian Studies
Benefits to Participants:
$200 professional stipend to each participant upon satisfactory completion of all seminar requirements: attendance at all sessions and submission of all written assignments
$100 mini-grant for school-related materials and activities 
Seminar books and teaching materials
Complimentary subcription to Education About Asia
Certificate of completion
Eligibility to apply for summer programs on East Asia
Act 48 hours will be available
Instruction:
Margaret Lonzetta and Lesley Solomon, Seminar Leaders National Consortium for Teaching about Asia (NCTA)
Professors of history, political science, art, literature and anthropology from the University of Pennsylvania
Museum Educators
For specific questions about the seminar, cotact Lesley Solomon at lesley86@hotmail.com.